Know Your Bartender: 21 Fir ft. Nate Manns
21 Fir
Book Reservation's Now: 1 (519) 208 1347
Location: 100 KING ST S, WATERLOO, ON
Nate has been practicing the art of mixology for years now and as of recently his craft has taken him to 21 Fir where he has been working since mid November of this year. The Waterloo University graduate takes great pride in his art and consistently aims to not only make the perfect drink, but create the perfect experience for the customer. I sat down with experienced bartender Nate Manns and asked him a couple questions.
What is your favorite beer 21 Fir has to offer?
"It's hard to pick, I really like Block 3, they are one of my favorite local brewers so I often suggest my favorite by them called Fickle Mistress"
What are your most popular cocktails?
"Well they change week to week, the most classic cocktails that are always a good go to here for whiskey drinkers are the Boulevardier and the Paper Plane. The Boulevardier is made of equal parts bourbon, Campari, and sweet vermouth. This is a great drink for warm weather. The Paper Plane is made of equal parts bourbon, lemon juice, Aperol which is a passion fruit flavoring, and Vecchio Amaro Del Capo. Our most sold cocktail overall is most likely the Old Fasioned."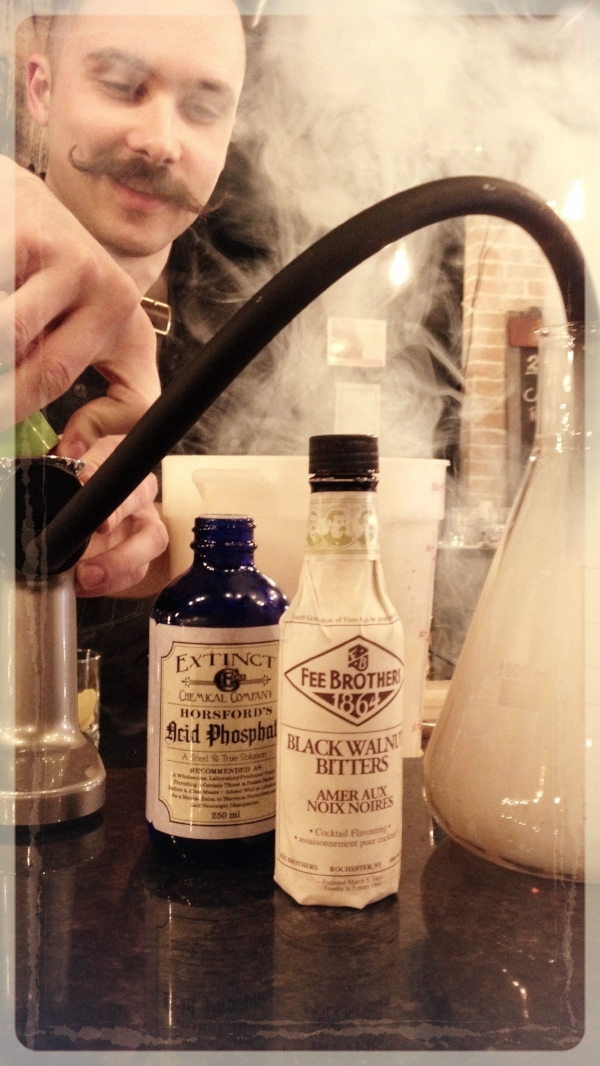 When I asked Nate if there were any unique drinks that he gets to make at 21 Fir he immediately said the "Smoking Sphere." Below is what goes into this eye catching drink, and a quick description of what I got to see while he created it.
Cherry infused Crown Royal (infused in bar)
Sweet vermouth
Cigar syrup (actual Cohiba cigar infused in simple syrup!)
Black walnut bitters
Acid phosphate
After the mix was made, Nate proceeded to add a hickory/cinnamon mix into his smoke guns chamber. He then used the smoke gun to fill up an Erlenmeyer flask full of smoke. When the flask created the perfect chimney effect Nate then added the mix in alongside the smoke. Nate then began to gently swirl the contents together. This was done for a precise amount of time, ensuring that the smoke had been perfectly infused into the drink. After the fusion process was complete the drink was glassed and garnished, a rich smell off hickory smoke still gently flowing through the air. "We have regulars that come in and consistently get the smoking sphere, I ask them what they want and they say "you already know" and I whip one up" says Nate. "Its a drink that once people see it being made or smell it in the air, they have to try it. When one is made, more are sure to follow!"
The Smoking Sphere goes for $20 at 21 Fir, and for the show you get to enjoy while the drink is being made, the price is definitely worth it. The fact that the cigar syrup used in the drink is actually infused with a real Cohiba Cigar still blows my mind! I got to sample this syrup and let me tell you first hand, it was not like anything I have enjoyed before. A smokey smell combined with a taste resembling that of sweet honey in tandem with a smooth smokey after taste, it was truly unique and delicious. Be sure to try the Smoking Sphere at 21 Fir soon!